Introduction
Pendable provides you with a production-grade email system working on top of Amazon SES. Your systems call Pendable's REST APIs and it then schedules, sends, and tracks your Emails via SES.
Pendable also provides spam domain filtering, ability to schedule emails into the future, Priority Queues, and a log of all emails sent along with all related events like deliveries, opens, clicks, bounces, and complaints.
Before you start using the API, please take the time to go through the SES Identities and the IAM setup steps below.
Watch a quick video walkthrough of the setup
Amazon SES Identities
A verified SES Identity is an email address or domain that you have verified in AWS SES. To use Pendable, you will first need to make sure your AWS SES account is set up with at least one verified identity. Example page with verified identities is shown below.
You should see a list of your verified Domains and Email addresses under your SES Identities tab. If not, please follow the steps in AWS to create and verify an identity.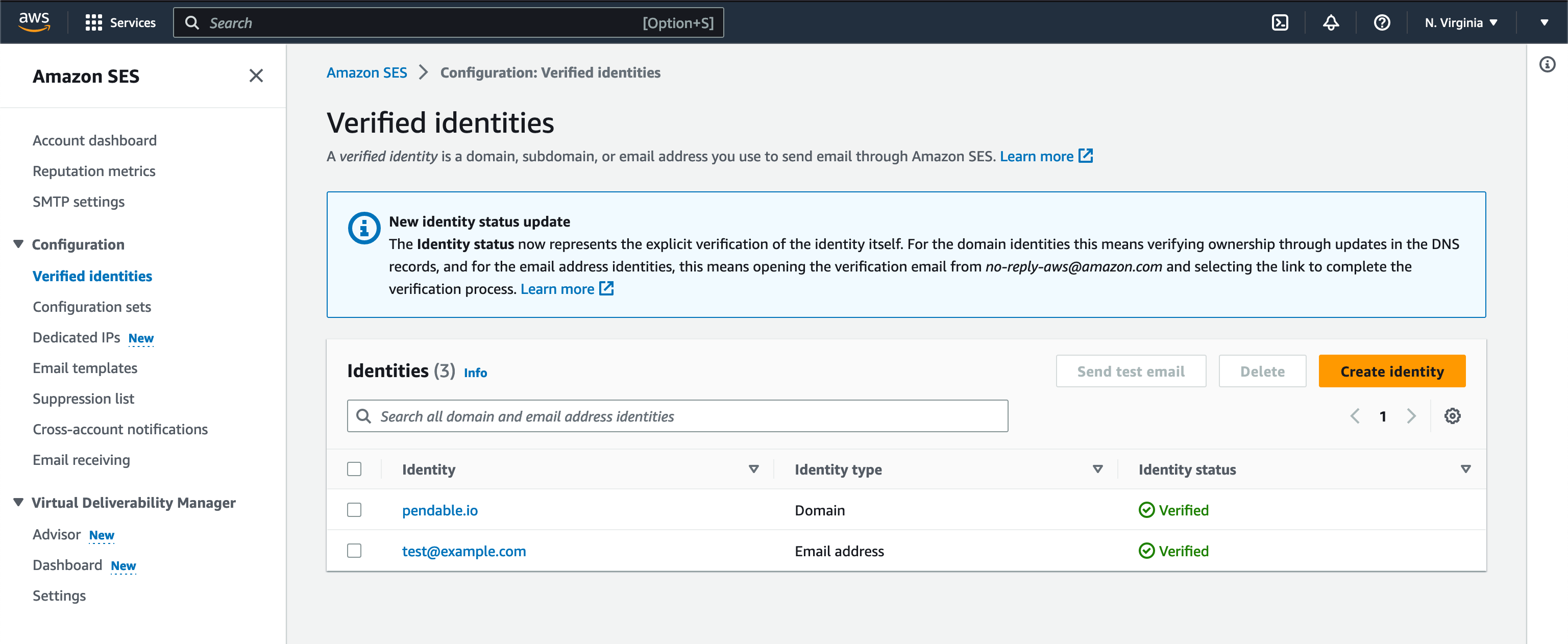 Amazon IAM Permissions
To use Pendable with Amazon SES, you need to create an IAM account in your AWS console with these permissions:
AmazonSESFullAccess: This allows Pendable to send your platform emails using SES. It also allows Pendable to pull other relevant data like your send limit, reputation metrics, and SES Identities.
AmazonSNSFullAccess: This allows Pendable to configure webhooks to receive email events like deliveries, clicks, and opens.
CloudWatchFullAccess: This allows Pendable to create Bounce and Complaint alarms in Cloudwatch and get notified when your emails are closer to any of those limits. Pendable actively throttles your emails when your account nears warning state.
Below steps will help you create the IAM user called "Pendable-Email-API" for programmatic access in your AWS account:
Step 1:
Head over to your AWS IAM Panel to create a new IAM Role. In the Selected Trust Entity step select AWS account.
Then select Another AWS Account and enter 959716649733 in the Account ID. (This is Pendable's AWS Account ID)
Now in the External ID field, enter the value from your Pendable > SES Config > IAM External ID. That value should look like a 12 digit number broken down into 3 parts separated by dashes.
Note
XXXX-XXXX-XXXX is just a placeholder. Please use the correct value from your Pendable > SES Config > IAM External ID section.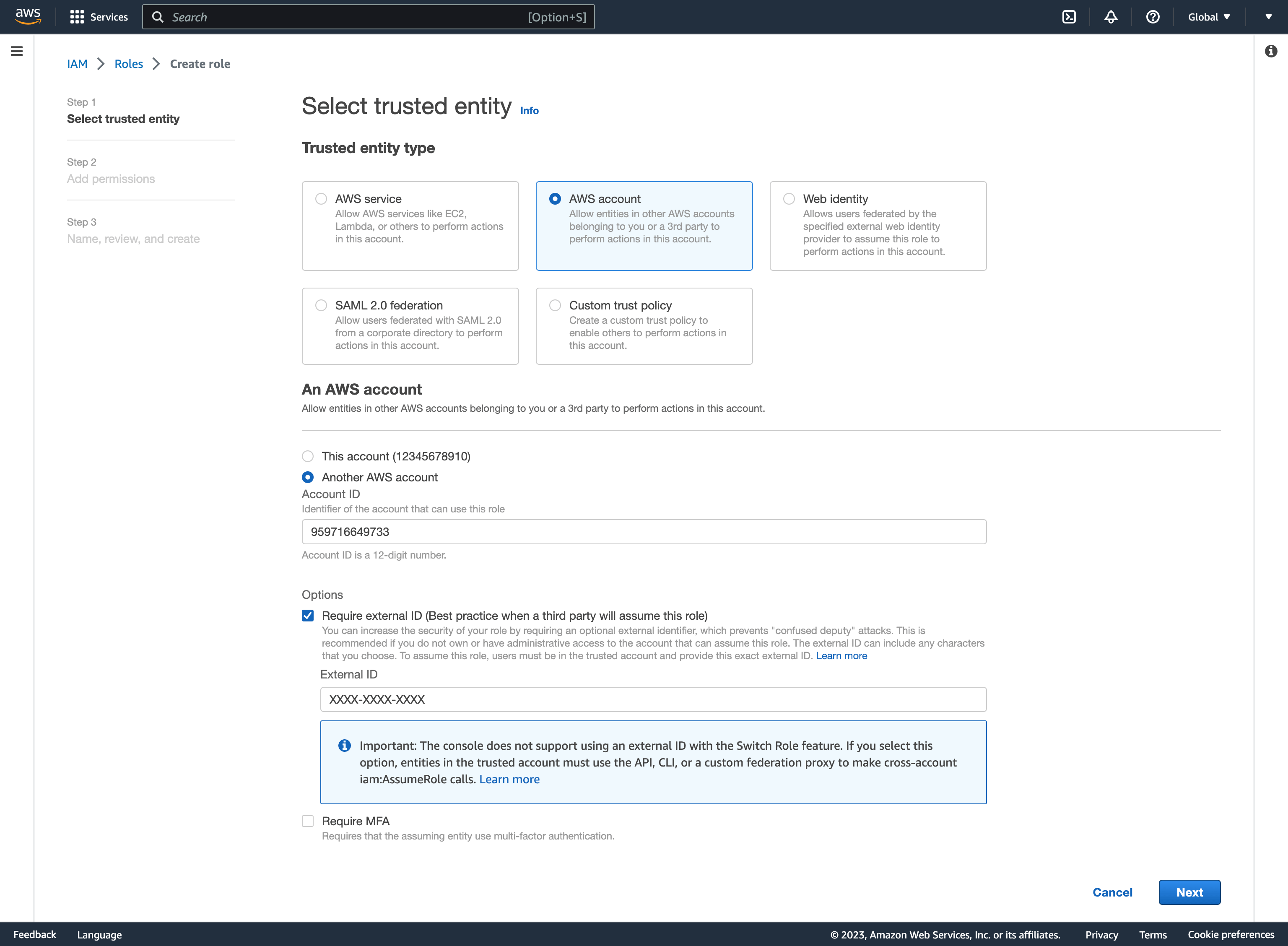 Step 2:
In the next step to "Add Permissions", one-by-one select the three permissions "AmazonSESFullAccess", "AmazonSNSFullAccess", and "CloudWatchFullAccess".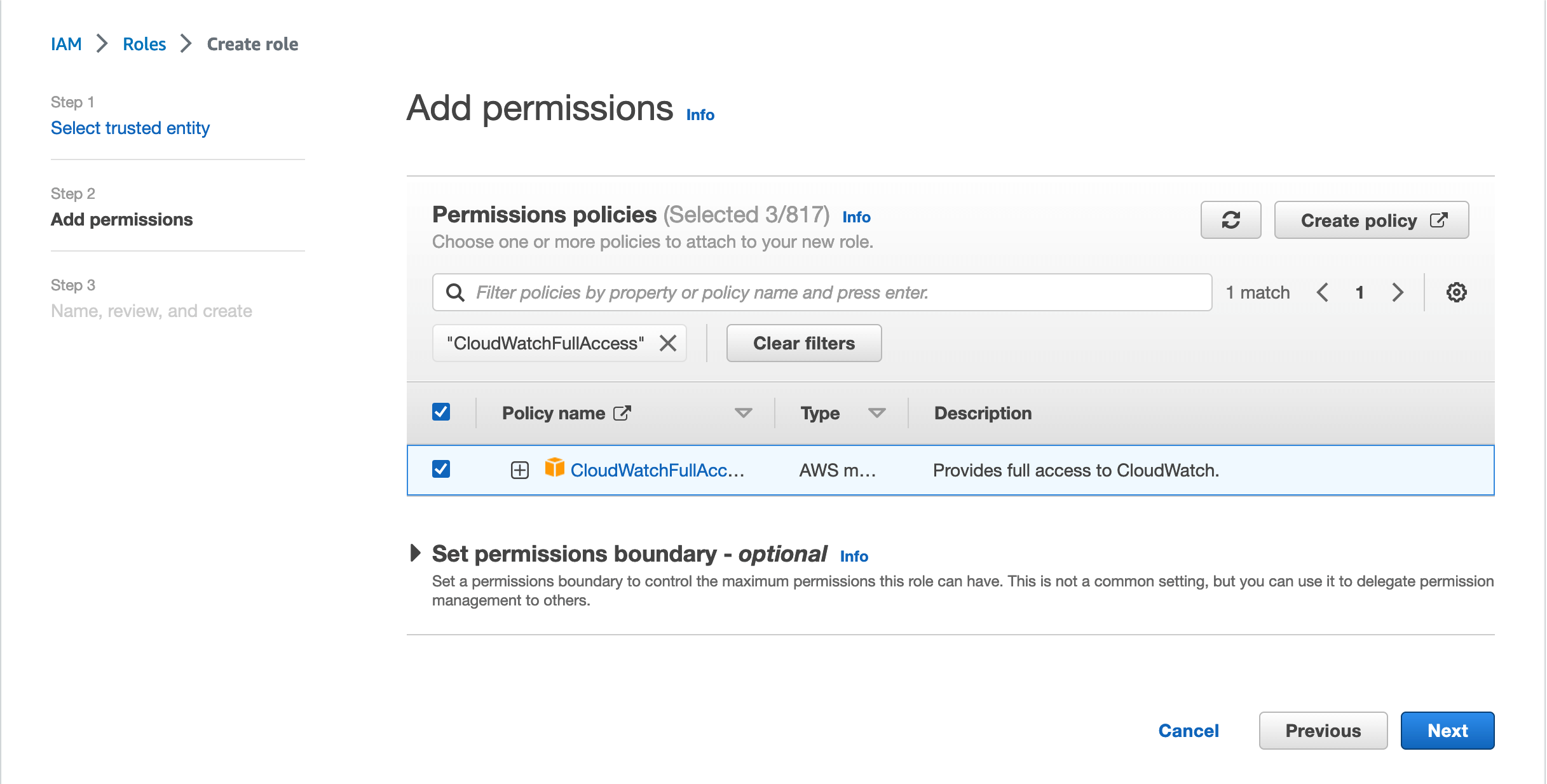 Step 3:
Now in the final step, enter "Pendable-Email-API" for the Role Name and "IAM role to allow Pendable access to SES." in the Description. Make sure you have selected the three required permissions mentioned above and then hit "Create role".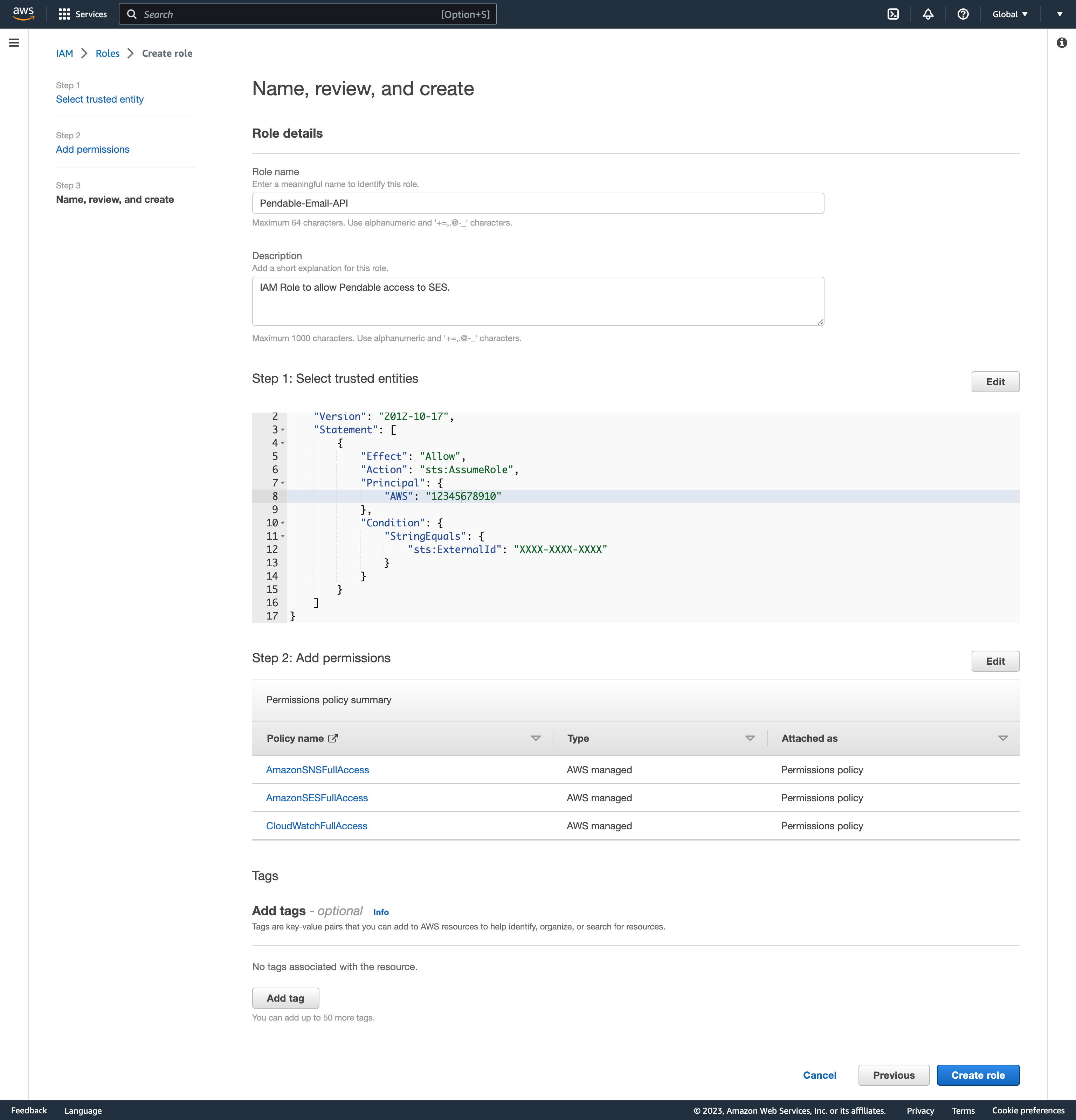 Note
Please note that your Pendable account cannot function properly without an IAM user with the above permissions.
Step 4:
Copy the ARN of the newly created role.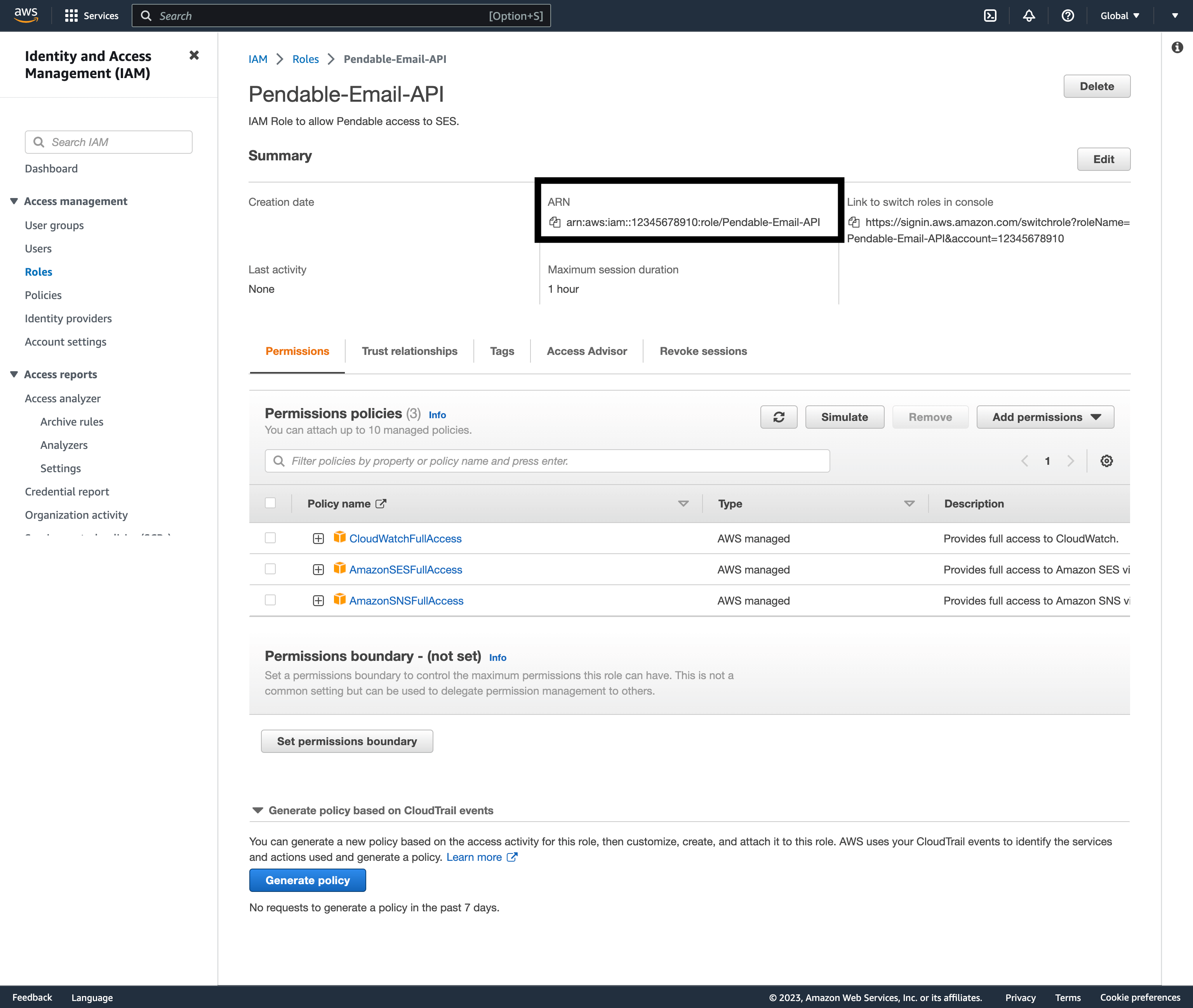 Step 5:
Now head over to Pendable and create a new SES Config.
Client Identifier is a unique name you can give to this SES Config.
Select the same AWS region as that of your Amazon SES. Also mark the "Is Default" and "Is Active" as Yes.
Now enter the ARN copied from Step 4 above.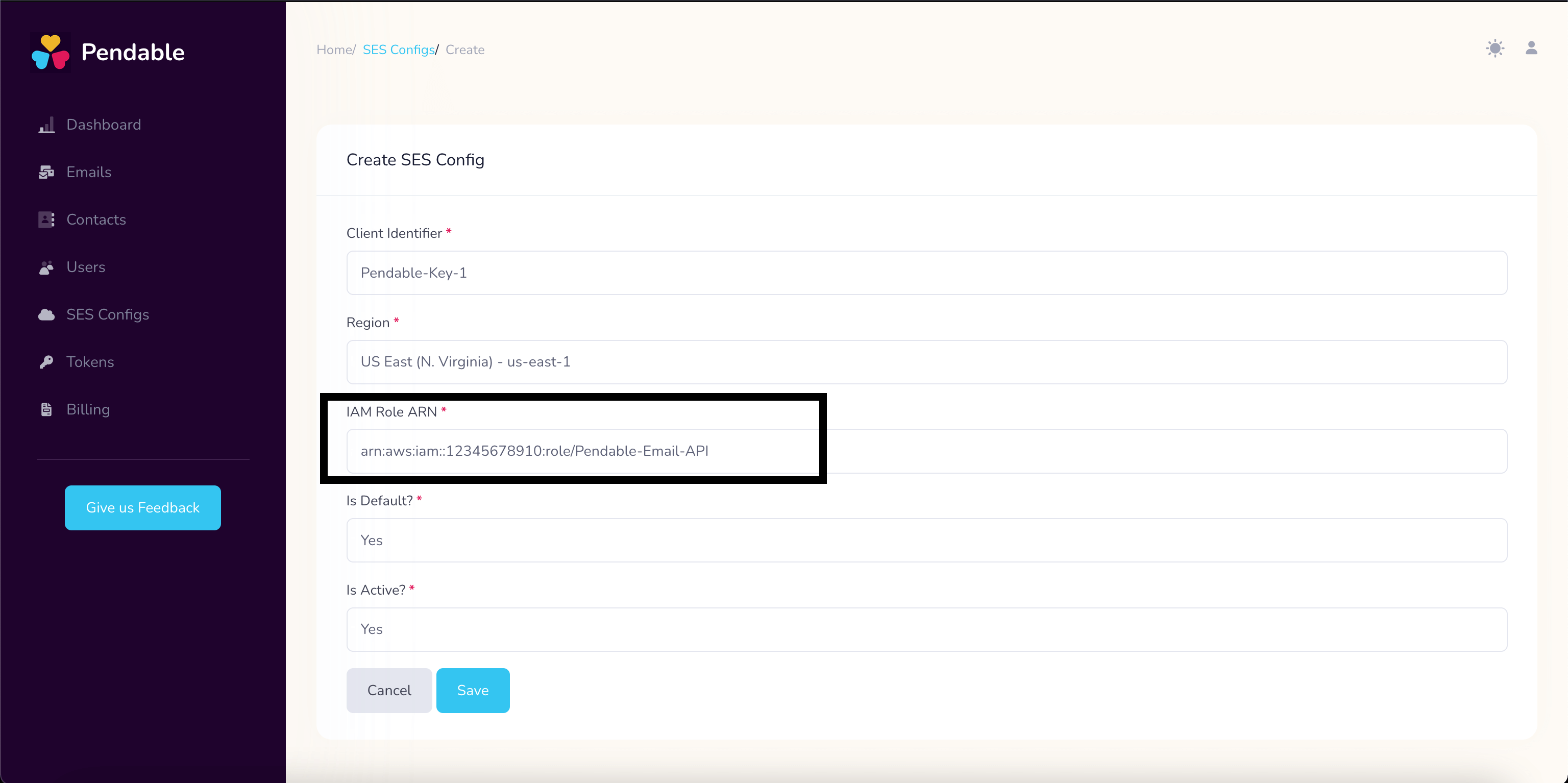 SES Sandbox Mode
To use Pendable with Amazon SES and send emails to live contacts, you will need to request SES to move your account out of the Sandbox mode.
Make sure you provide SES with all the required information to process your production access request. Below are some important points in your application to SES:
Make sure you mention that you use Pendable to automatically processes bounces, complaints, and unsubscribes for you.
Also make sure you own your domain, that it is added as a Verified Identity in SES and provide a link to your website.